41 :: What is the population of Windsor, Ontario?
If I google the question, I find that my search result screen lets me know that the population of Windsor, Ontario is 216,470 (2006) and this data is from UNdata.
This is oddly old data 2006 is almost 8 years ago. I understand why Google would want to rely on authoritative and organized data tables for this service, but the UNdata table has been updated and it tells me that the population as of 2012 is  330,856.
And whoa, that's a bit of a jump. But if we check the UNdata for 2006, we can find out why there's so much of a difference. There are two population counts associated with Windsor. The first is the for the City Proper and the other is for the Amalgamation of Windsor:
The UN is getting the data for Windsor from the Canadian Census and is might just be that the UNdata hasn't updated its files to account for the results from the 2011 Census.
According to the 2011 Census, the City Proper (Windsor Census Subdivision CY) dropped 2.6% to 210,891 people and the amalgamation of the area dropped 1.3% to 319,246.
You may be wondering why I'm investigating the population of Windsor and why I'm trying to wrap my brain around type of census subdivisions.
Well, I'm about to get into some more complicated mapping and before I do, I wanted to make sure I don't make this all too common mistake: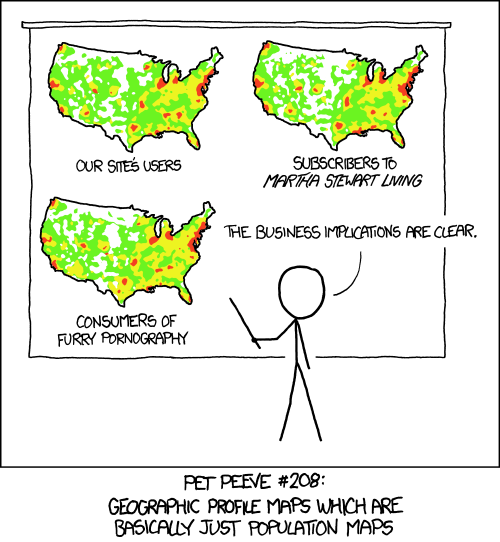 I am also curious how much our decreasing city growth will affect our ability to pay for city and social infrastructure and how the region might re-find it's capacity for growth.