50 :: Geocoders and Reverse Geocoders
So one of the reasons why I'm interested in web mapping is because well, I don't think I've explained it here properly yet:
What came first, conquered by Google's superior search algorithms. Who was next, and Facebook was the victor. But where, arguably the biggest prize of all, has yet to be completely won.

Where-type questions — the kind that result in a little map popping up on the search-results page — account for some 20 percent of all Google queries done from the desktop. But ultimately more important by far is location-awareness, the sort of geographical information that our phones and other mobile devices already require in order to function. In the future, such location-awareness will be built into more than just phones. All of our stuff will know where it is — and that awareness will imbue the real world with some of the power of the virtual. Your house keys will tell you that they're still on your desk at work. Your tools will remind you that they were lent to a friend. And your car will be able to drive itself on an errand to retrieve both your keys and your tools…

A map is to location-awareness as Windows is to a P.C. And as the history of Microsoft makes clear, a company that controls the operating system controls just about everything. So the competition to make the best maps, the thinking goes, is more than a struggle over who dominates the trillion-dollar smartphone market; it's a contest over the future itself.
Later on, I hope to spend sometime summarizing why it's important to have alternatives to Google's maps and services, but in the meantime, these two articles are good entry points : Emily Badger's How the Internet Reinforces Inequality in the Real World and Evgeny Morozov's My Map or Yours: Google's plan to personalize maps could end public space as we know it, from which you can find this passage:
At first, it might seem that what Google is doing to maps is not very different from what it has done to search results. Those too have moved from universal—i.e., everyone saw the same search results—to highly personalized—i.e., what we see when we click the search button reflects our previous search history. But customization was easier to defend in the context of search: If you type "pizza" into your search field, it makes sense for Google to show you results from the local restaurants rather than from across the globe. But the personalization of maps takes this logic to the ugly extreme: Now when you type in "pizza," you would see those restaurants that, according to Google, you are likely to approve of—and not pizzerias that haven't yet crossed your radar.
Now luckily there's this lovely article about Geocoders so I don't have to explain what they are and why they are so important to the web mapping enterprise.
And this demonstrates how it's everything Google or nothing Google, when it comes to mapping:
@ariyahidayat bad news: the evil @googlemaps doesn't allow using the geocoder with non-GMaps like Leaflet https://t.co/1F2QaAFUfY (10.1.1g)

— Leaflet (@LeafletJS) July 9, 2013
 So what are the non-Google alternatives to geocoders? When I did my research on this last night I found that sifting through its Google Search results was unsatisfying, I tried searching for geocoder on Twitter and filtered the results to people that I follow. Much better!
Working through this list of references to geocoders, I've been able to piece together the following:
.@ajturner just announced our open-sourced geocoder at #sotm09 http://github.com/geocommons/geocoder – US now, help build out for the World

— geocommons (@geocommons) July 10, 2009
At the 2009 State of Map Conference (I'm attending the 2014 Conference in mere days… gulp), geocommons released their geocoder for the US as open source. This was a big deal!
Other geocoders I learned about was geocodr (built from Flickr data!), Yahoo BOSS geo services (the official stuff),  batchgeo, gpsvisualizer, mapstraction, ESRI's geocoding service,  and TwoFishes from Foursquare which is also open source. Two Fishes is built on geonames.
And then there is geocoder.ca – which I had heard about before because they were sued by Canada Post over the matter of distributing Postal Codes.  The case has not been settled and until then, you can enjoy postal codes over twitter. And evidently, we in Ontario had access to a free geocoding service, but it appears that the service is no longer:
did you know that there is a free online Ontario geocoder? http://t.co/ncUaPatL3g -enhanced version also coming that will work within ArcGIS

— Marcel Fortin, UOFT (@mapsgis) May 10, 2013
One of newer geocoding services includes OpenAddresses. And yes – there's even more geocoding services. I wonder how one can even compare them all…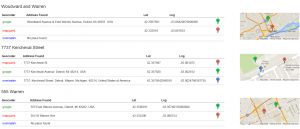 Matt Hampel made a simple app to test POI accuracy of Mapquest vs Google vs nominatim – which is OpenStreetMaps' geocoder (but based in Mapquest?) I've forked Matt's code so I might try it myself for some local points of interest.
Right – and remember how this all started because I was gushing how easy it was to geocode records in Google Fusion Tables. Mapbox offers a script to make locations within Google Documents geocodeable using MapQuest nominatum or Yahoo BOSS and get the results as geoJSON to boot.
PHILADELPHIA, PA–(Marketwired – April 02, 2013) –  Azavea, an award-winning geospatial data analysis software company, was awarded a $150,000 Phase I Small Business Innovation Research (SBIR) grant from the National Science Foundation to create a web-based historical mapping system that will enable geographic indexing of historical documents. The software is aimed at supporting a wide range of government, commercial, academic and other research projects involving the analysis of geographic data through time, with particular emphasis on projects related to public health, epidemiology, political science, history, and genealogy.
 I have to admit that I not thought about the availability of local and temporal geocoders for historical research:
Now up is @EmoryUniversity undergrad, Emily Clark, talking about creating a historical geocoder for Atlanta. #ATLStudies

— Brian Croxall (@briancroxall) April 26, 2013
It makes me wonder which geocoding services the NY Public Library uses…. [moments pass] and here's my answer:
For the past year, The New York Public Library and the National Endowment for the Humanities have collaborated with Topomancy, "opensource geospacial superheros," as Riordan called them, to build an experimental historical gazetteer, or geographical dictionary, called The New York City Chronology of Place (NYC-CoP).
Annnnd.. coming full circle, I've recognized some of the folks involved from my twitter stream.